Tasks for the weekend:
+ Write a letter to Naz!
+ Send birthday package to Amalia! [Urgent!] (Oops? :P)
+ WRITE! WRITE! WRITE! [Big Bang, drabbles]
I first thought about going to the cinema tonight, but the movie I wanted to see (Percy Jackson) isn't on anymore, in the cinema nearby, and as I don't really have a car at the moment (I have one but every now and then it refuses to start and I don't want to stand in a sparely lit parking lot alone!) I can't go to this other cinema, that's a little further away, but still at an ok-distance. And I didn't want my father to drive me there and then get me back home again. AND no one's coming with me anyway, but fuck them, that's how I feel at the moment about my so-called friends. They only message me when
they
want to go out but when I want to go out, they're occupied or not in the mood. And yeah, now I'm not in the mood for them. So, as you can see, I'm home anyway. I could've said yes to MySpace guy but no, not tonight.
The rest of my day was kinda blah. Nothing really happened. I got up earlier than usual because my father wanted my help in the office - and I got woken from an Alex dream!!! *sighs* - and then my father wasn't even there!!! Grrrr... And it was a nice dream. Don't remember all of it now, but - and I totally blame/bless
emerald_skies
for posting those great .gifs *guh* - Alex only wore this in the dream!! :P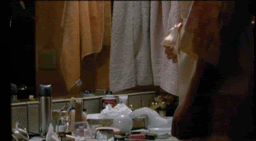 Yeah... I'll leave you with that image...
Btw, credit for the .gif goes to
chapmangrl
This guy from MySpace is after me again. He sounds a bit of a nice guy/stalker mix. I don't know what to think of him, yet. He still wants to meet, and I know, the other day, I said that I want, too. I mean, otherwise I won't find out what kind of guy he really is, right? But something inside me feels weird about it, and I think maybe I should just trust my instincts. My knowledge of human nature is pretty good (got that from other people already, too), even though it's just talking over the internet and text messages, but I can just tell there's something weird about him... Don't know. And then, he knows my last name, though I don't remember telling him before. Which would be ok if he told me his - which he doesn't! I asked, why not, and he just said he likes to tease me. Yeah, I don't know... :-\ I definitely won't meet him when he doesn't even tell me his name.
Current Mood:

busy

Current Music:

X-Men on tv