Aaah, it's been so great AGAIN!!! This time, I was über-excited. I have NO idea why, what was so special about this episode that it made me all giddy beforehand. I mean, the other episodes are damn awesome, too. But well, I enjoyed, we enjoyed, it's all good.

Oh, I do! I.DO. !!!!!
Über-guh!!! *dies*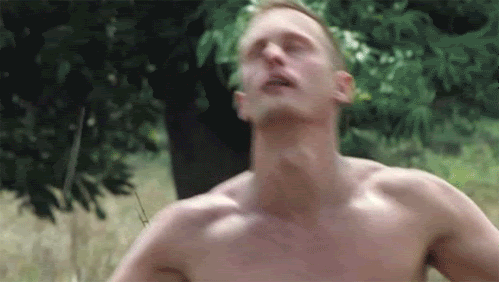 "Better now." Mhhm... Me too, Brad, me too!!
And we had sad Walt, who didn't even want to pick up his gun anymore. Aw, baby! :( But oh, Ray Ray... I love how he tousles his head here! <3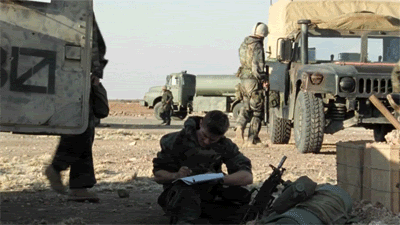 "Feel the love."
Ray was being his usual self, kind of a pig. LOL
Brad doesn't like it either. ;)
But then he even makes Walt smile again, and for that, I ♥ him!!! <3
And then Ray's even holding a kid! There, there! I saw it! *g* Last night, they wanted this as evidence. ;) haha "Caps or it didn't happen!" Here you go!
Mhh... and I just have to post these again, too. Gotta love a man without a shirt! *g* [This man especially!!]
♥ ♥ ♥ ♥ ♥
So, what else is new?
Saw the last episode of The Listener yesterday and all I can say is, WTF? [and excuse me, but I just noticed last night that GK is doing something to me - I use bad words even more now LOL] So yeah... wtf?? It has an open end! *rolleyes* Can't believe it!
After the GK rewatch, I had me another dose of Stark, because that one hour just wasn't enough. hehe And I watched Flags of Our Fathers, which was on tv.
Just noticed - season 1 finale already next week! Ah! o.O But I think they'll start with season 2 right after. Good.
Soo... omg! Bailey Chase and Francis Capra as guests - I like much!!! :D
Big LOL at Castle's reaction to Ryan's tie! haha
Beckett: [about the cover art to Castle's new Nikki Heat book] She's naked!
Castle: She's not naked. She's holding a gun... strategically.
Will Sorenson: Why the sudden need to shadow a real detective?
Castle: Well, the ones on TV seem oddly fixated on their sunglasses. [hahaha That was so great!]
So, I started my Sunday early again. What are we gonna do now? Hm... I don't think Gossip Girl's on today, so I might go back to sleep. *g* Might...
Rule #2 in Brad's humvee. ;-) Everbody knows, Ray, why don't you? LOL
Current Mood:

awake